Audi Touch Up Paint
Touch Up Paint for All Audi Colour Codes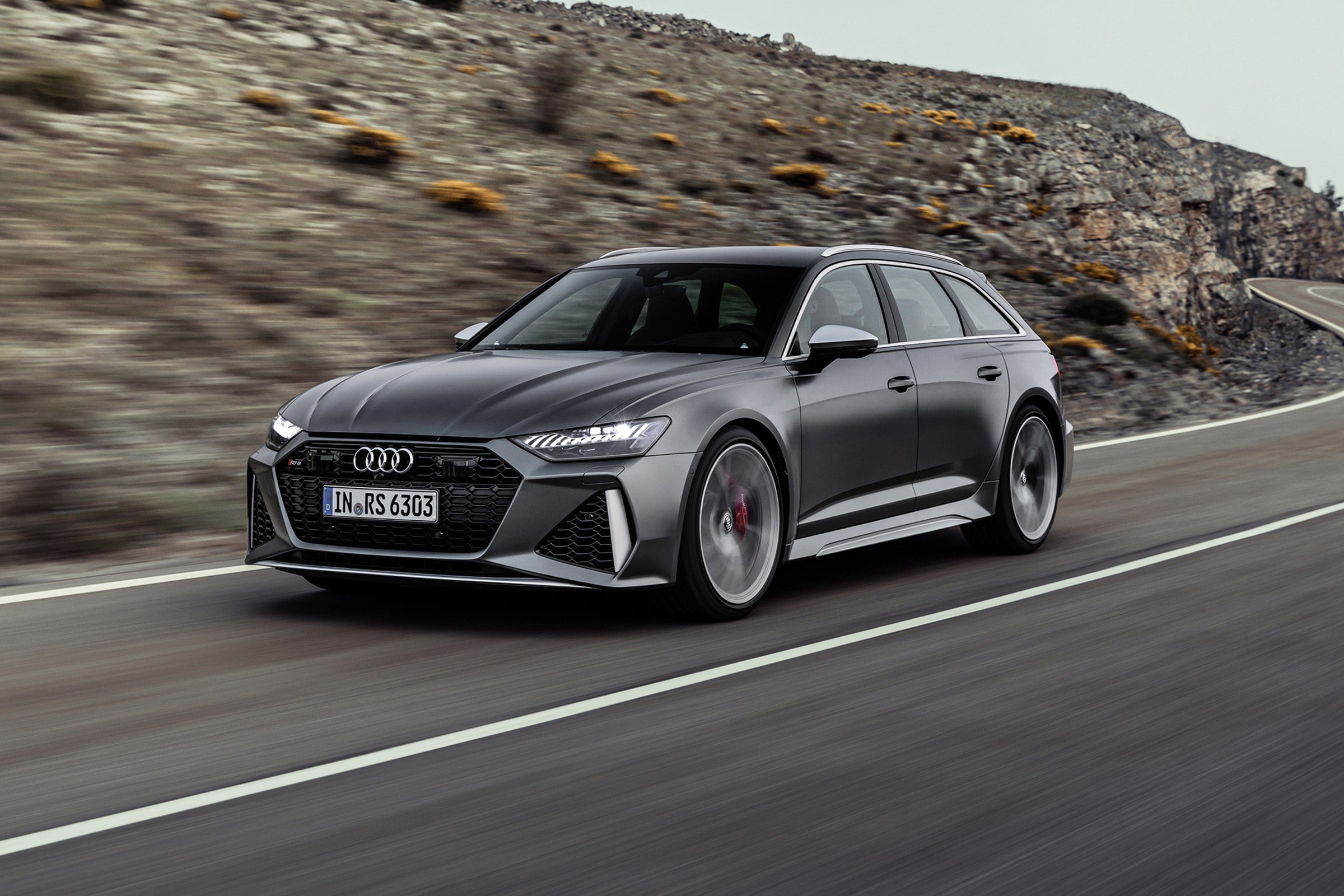 At Chipex, we know all too well that sinking feeling when you notice a scratch or chip in your Audi.

So, before you panic and start rushing off to your nearest garage to spend a fortune on repairs, let us introduce you to our innovative touch up paint for Audi.

Developed using a specially formulated colour match technology, Chipex touch up paint is incredibly simple to use at home to achieve professional results in no time at all.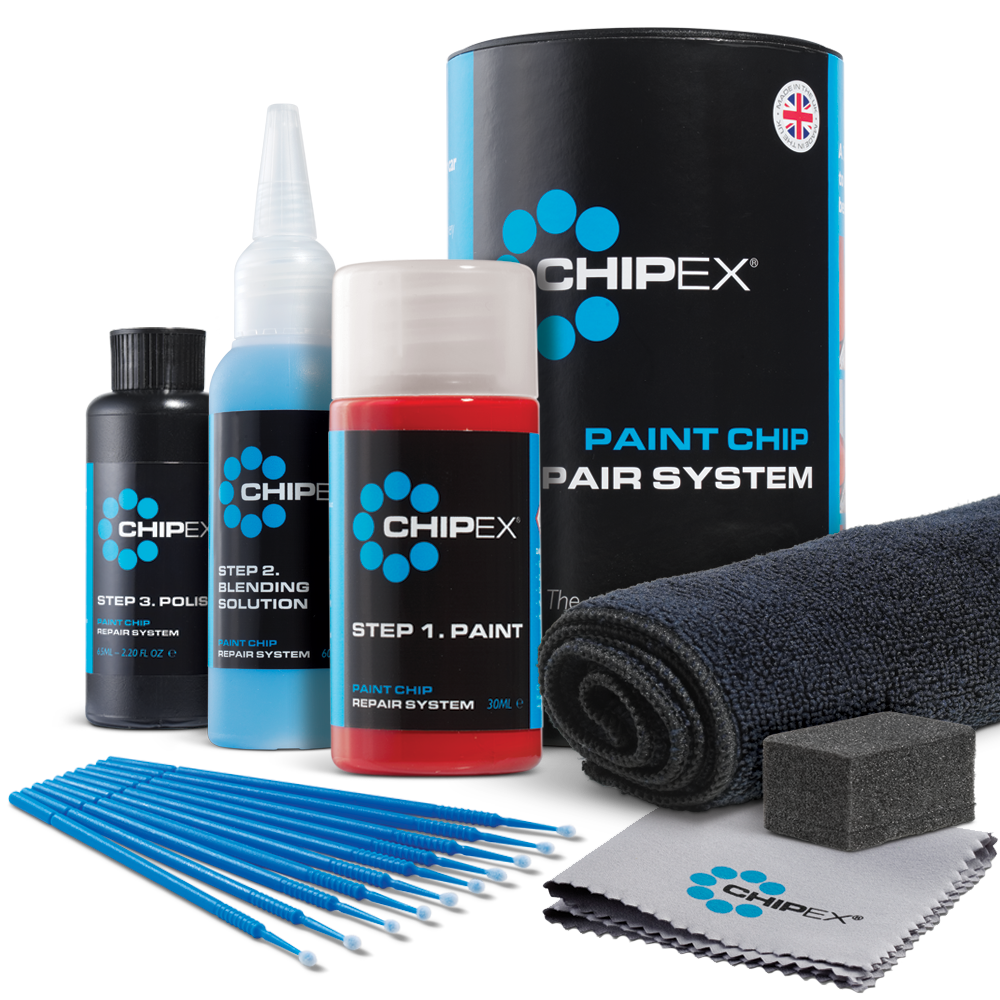 How It Works
Finding the perfect touch up paint colour for your Audi couldn't be easier thanks to our handy little colour code finder tool. All you need to do is enter your car registration, and the tool will find you the perfect match - guaranteed.

Alternatively, you can use the method of locating your paint colour code from directly inside your car. Depending on the model, the location might vary, so our detailed guide below will walk you through how to find your Audi paint code.

Find Your Audi Colour Code with Your Registration
The quickest and most efficient way to find your Audi touch up paint colour code is by using our colour code finder tool.

Simply add your registration number, and the tool does all the work for you. Not only that, but it's guaranteed to find the exact colour match for your Audi touch up paint, so you'll never even know there was a scratch there.

Try it for yourself and pop your registration in the box below.

Add Registration To Find Your Colour
this is an error
Where to Find Your Audi Colour Code
If you'd prefer to use another method to find your Audi paint colour code, you can also find it directly in your car.
Finding your Audi paint colour code is extremely easy since they're all located in the same place regardless of model, which is inside the luggage compartment.
If you're not sure where to look or can't recognise the code, your user manual will give you steps on how to locate it, and you can also visit your dealership for help.
Audi Paint Code Location
To help you find your Audi colour code quickly and easily, our detailed guide below walks you through the exact steps to finding your Audi paint colour code to quickly find the perfect touch up paint kit.
| | |
| --- | --- |
| Model | Position of Colour Label |
| All Models |  Inside luggage compartment |
As in the image, your Audi paint code can usually be found in the middle of the sticker and is often referred to as the 'Paint No.' If in doubt, check with our registration lookup tool.
If you cannot find the Audi paint code / colour name on the car, you can call your local dealer with your Vehicle Identification Number (VIN), which you will find on the car or your log book / vehicle registration document, and they will be able to look it up on their internal database.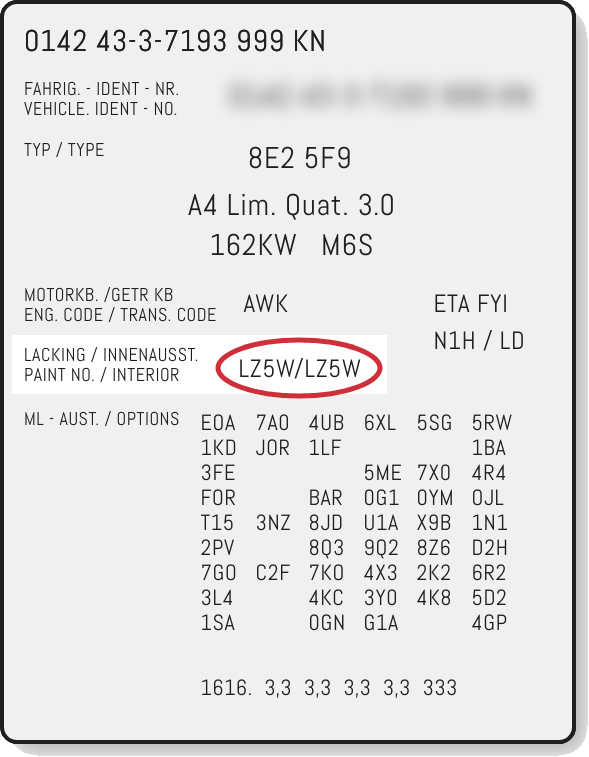 How to Use Chipex Touch Up Paint On Your Audi
The 3-step process involved in using the Chipex touch up paint for Audi makes it incredibly simple to use. You start by painting the affected area, softly blend, and gently polish.
That's it; you now have a scratch-free car for a fraction of the time and money compared to going to a garage.
Not only does our Audi touch up paint perfectly match the existing paint, but also provides long-lasting protection against corrosion and rusting.
FAQs
Here are some frequently asked questions about using Chipex touch up paint on your Audi:
How do you fix a scratch on an Audi using Chipex Touch Up Paint?

Chipex touch up paint for Audi is designed to give you a 100% colour match which ensures that scratches and chips are simply gone. This is a much faster, more efficient, and more affordable way to repair minor scratches and chips on your Audi.

Where is the paint code on an Audi?

In all Audi models, the paint code is located in the luggage compartment, and is usually recognisable by an 8-character alphanumeric code beginning with L.

How much is it to fix the paint on an Audi?

Using Chipex Audi touch up paint is one of the most affordable      ways to repair any minor scratches or chips to your paintwork, and even if you're a complete novice, you can easily get professional results at home quickly.

How do I get micro scratches out of my Audi?

Thanks to the easy 3-step system, using Chipex touch paint makes it an incredibly fast and effective way to get micro scratches and chips out of your Audi.

Is the Chipex system any good?

Chipex is well recognised and loved by car owners as a product that helps them keep their cars looking great and remove scratches quickly at home.