Mazda Touch Up Paint
Touch Up Paint for All Mazda Colour Codes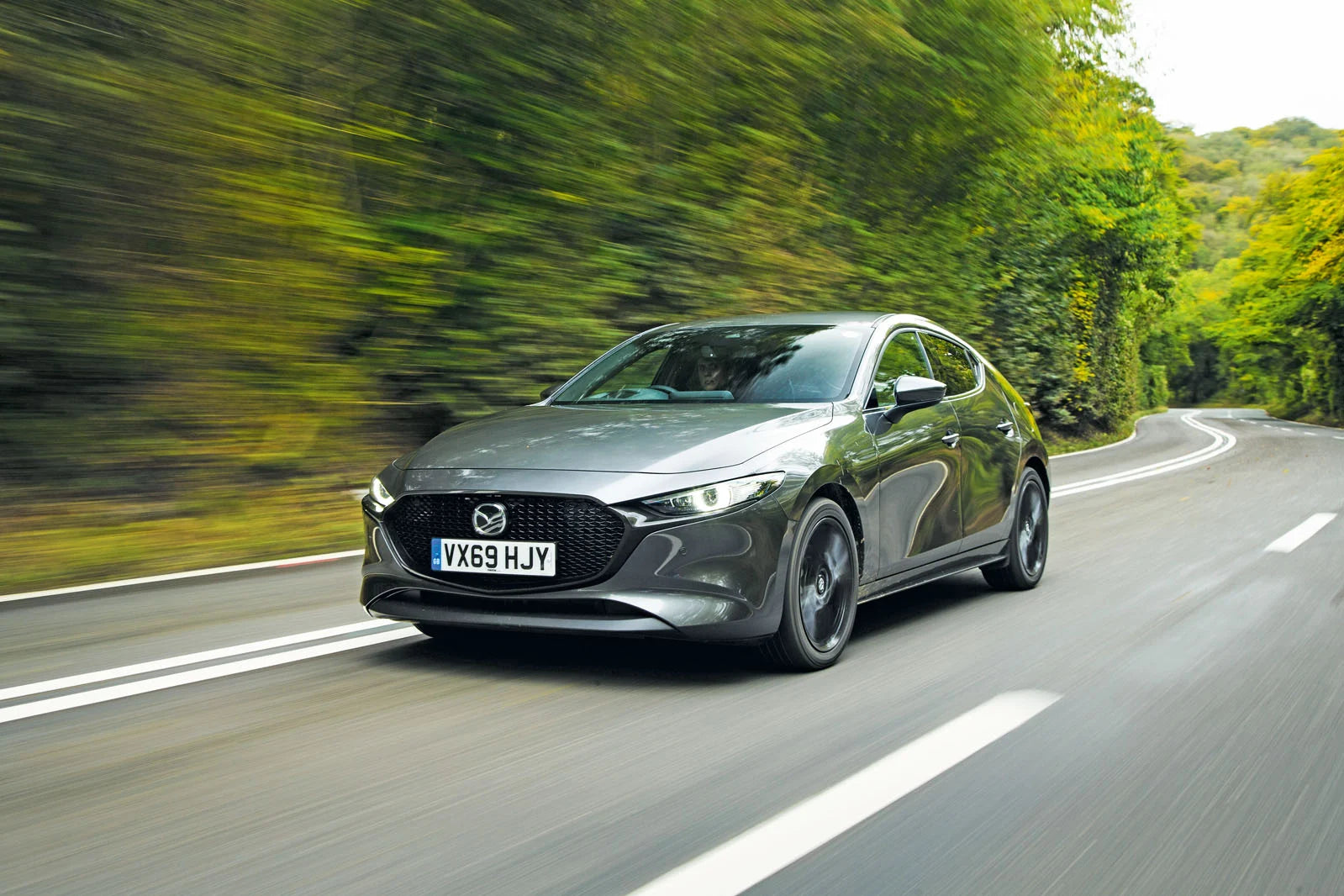 Allow us to present our sophisticated touch up paint for Mazda. Skilfully crafted using our unique colour match technology, Chipex Mazda touch up paint ensures a smooth application process, helping you secure professional-grade results quickly and efficiently.

At Chipex, we recognise the frustration when you discover a scratch or chip on your treasured Mazda, not to mention the potential cost involved. This is precisely why we've developed our advanced paint repair products, created to save you time, eliminate undue stress, and avoid unnecessary expense.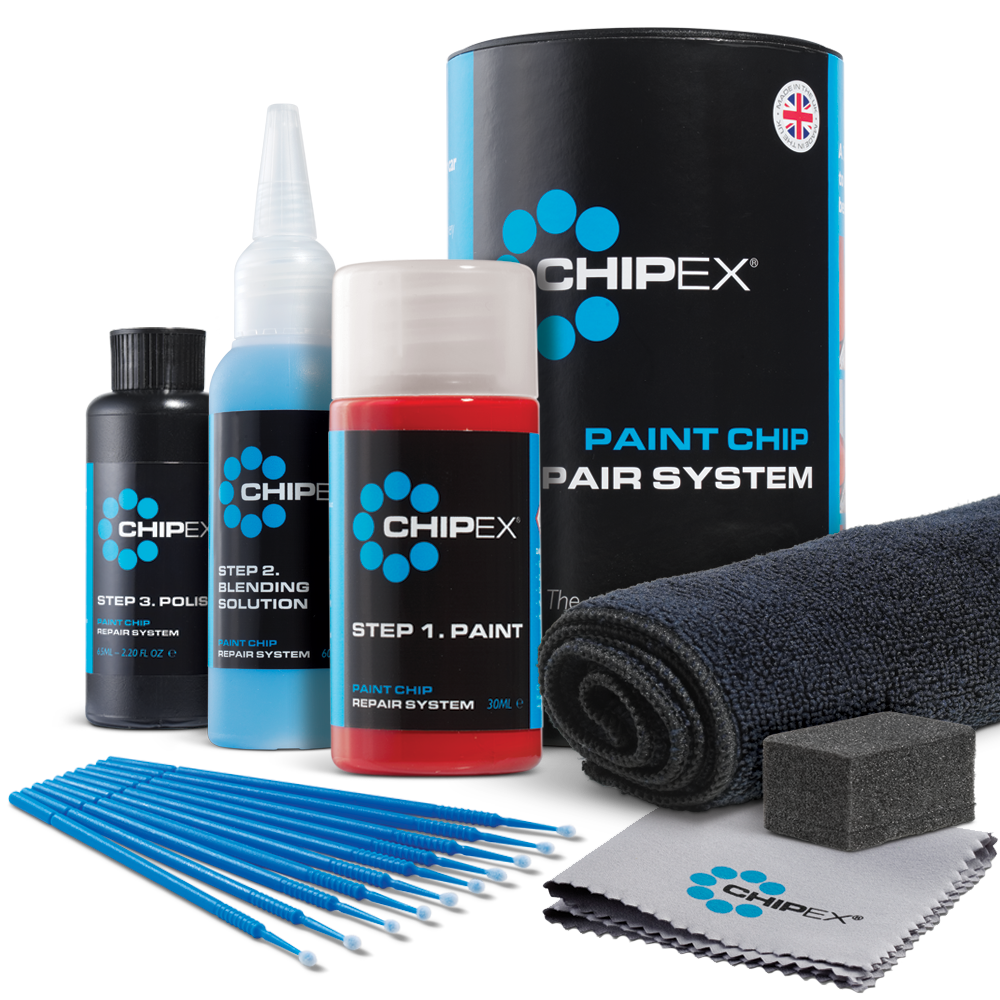 How It Works
Fix up your chipped Mazda with Chipex touch up paint. To start, enter your vehicle's registration into our efficient colour code finder tool at the top of the page. Our advanced system will swiftly identify the exact colour code for your Mazda, simplifying your choice of the perfect touch up paint kit.

If you prefer a more hands-on approach, you can find the colour code inside your vehicle. We're here to help guide you to the location of your Mazda's colour code, ensuring that you can confidently order the right touch up paint kit.

Find Your Mazda Colour Code with Your Registration
Use our intuitive colour code finder tool to easily locate your Mazda's paint code. When you input your registration details, our system will promptly pinpoint the precise colour code that corresponds to your Mazda vehicle. With Chipex, precision is our promise, guaranteeing that you will receive the touch up paint kit specifically designed for your car. Access the Mazda colour code finder in the yellow box at the top of this page or simply click here.
Add Registration To Find Your Colour
this is an error
Where to Find Your Mazda Colour Code
As with most manufacturers, Mazda's paint codes can be found within the vehicle. For models before 1997, the most reliable location for your Mazda's paint code is on the driver's side door shut. For those manufactured after 1997, check inside the engine bay. Please note, the exact location of the paint code may differ depending on your Mazda model, so a thorough check of these areas is recommended to locate the information plate.

For additional guidance, you can refer to your owner's manual or contact your local Mazda dealership for the code. No matter your preferred method, we are committed to helping you find the necessary code to order the ideal touch up paint kit for your Mazda.

Mazda Paint Code Location
If you're having trouble locating your Mazda's paint code, we've got you covered. Our comprehensive guide, complete with an accompanying image, illustrates where the codes are typically found. With our help, you'll quickly find the paint code, allowing you to proceed with your touch up paint kit order.
| | |
| --- | --- |
| Model | Position of Colour Label |
| Mazda models (Before 1997) | Driver's side door shut |
| Mazda models (After 1997) | Inside the engine bay |
As per the image shown, you can usually find your paint code on the bottom left of the sticker, just under the barcode.

If you cannot find the paint code / colour name on the car, you can call your local dealer with your Vehicle Identification Number (VIN), which you will find on the car or your log book / vehicle registration document, and they will be able to look it up on their internal database. Or, you can simply use our accurate registration lookup tool.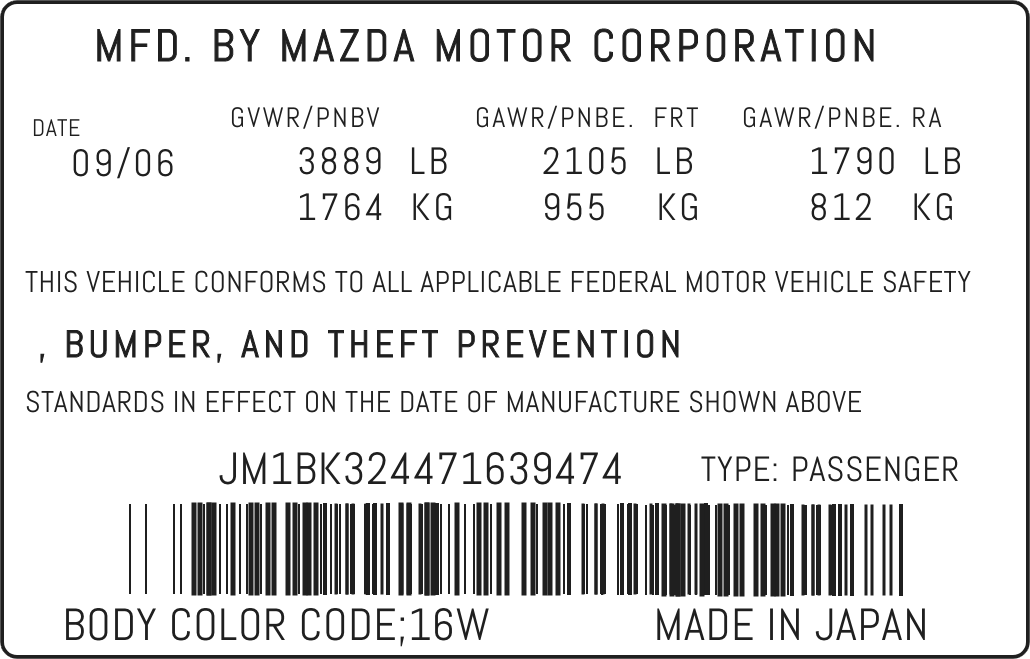 How to Use Chipex Touch Up Paint On Your Mazda
Using our touch up paint kits on your Mazda is an absolute breeze. We provide detailed, step-by-step instructions to smoothly guide you through the process, ensuring impressive results within your own garage. Our touch up paint is specially crafted for easy application and offers enduring protection against rust and corrosion.

After you've cleaned the area in need, it's just a 3-step process - apply paint, blend, and polish. You'll be impressed by the seamless blend of the touch up paint with your Mazda's original paintwork.

FAQs
Here are some commonly asked questions about using Chipex touch up paint on your Mazda:
How do you handle a Mazda paint issue?

If your Mazda's paint has been chipped or scratched, Chipex touch up kits are the ideal DIY solution, delivering results that rival professional services.

How do you repair a scratch on a Mazda?

Chipex touch up kits can make scratches on your Mazda disappear, leaving an outstanding result. Chipex guarantees a perfect colour match and a top-tier finish on your vehicle.

Where is the paint code on a Mazda?

You can find your Mazda paint code on the sticker located either on the driver's side door shut (for models before 1997) or inside the engine bay (for models after 1997).

How much does it cost to fix the paint on a Mazda?

Correcting paint issues on your Mazda can be cost-effective with Chipex touch up paint kits. The superior quality of the product ensures a perfect match with your paint colour, offering results akin to professional repair services.

How do I remove micro scratches from my Mazda?

You can buff out minor scratches on your Mazda using Chipex touch up paint kits. Achieve outstanding results in just three easy steps.

Is the Chipex system worthwhile?

Definitely! Chipex products, such as touch up paint kits, offer a DIY solution that yields results equivalent to a professional finish.