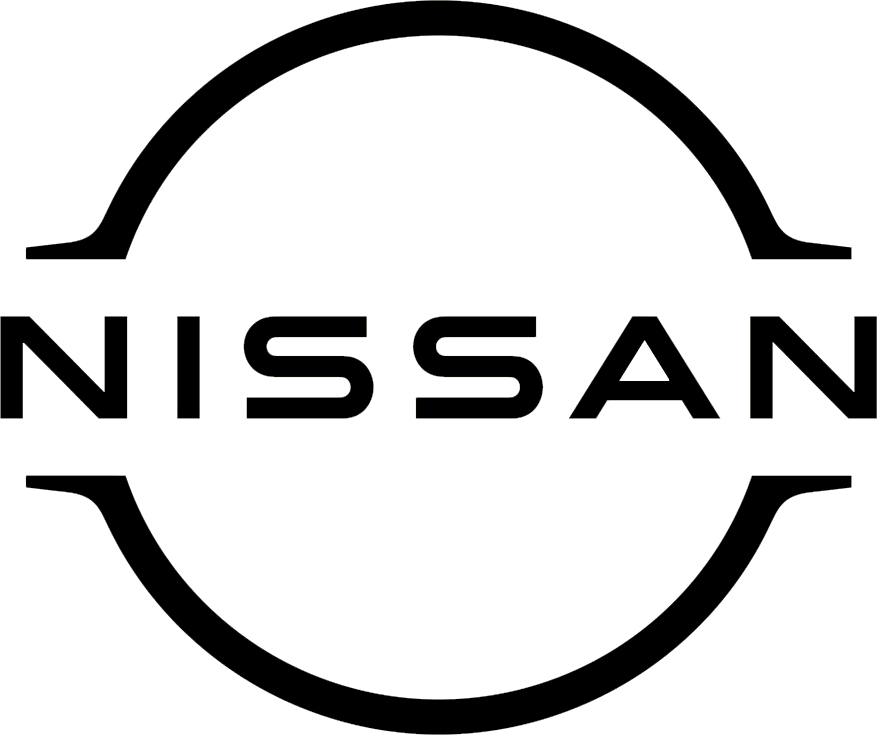 Nissan Touch Up Paint
Touch Up Paint for All Nissan Colour Codes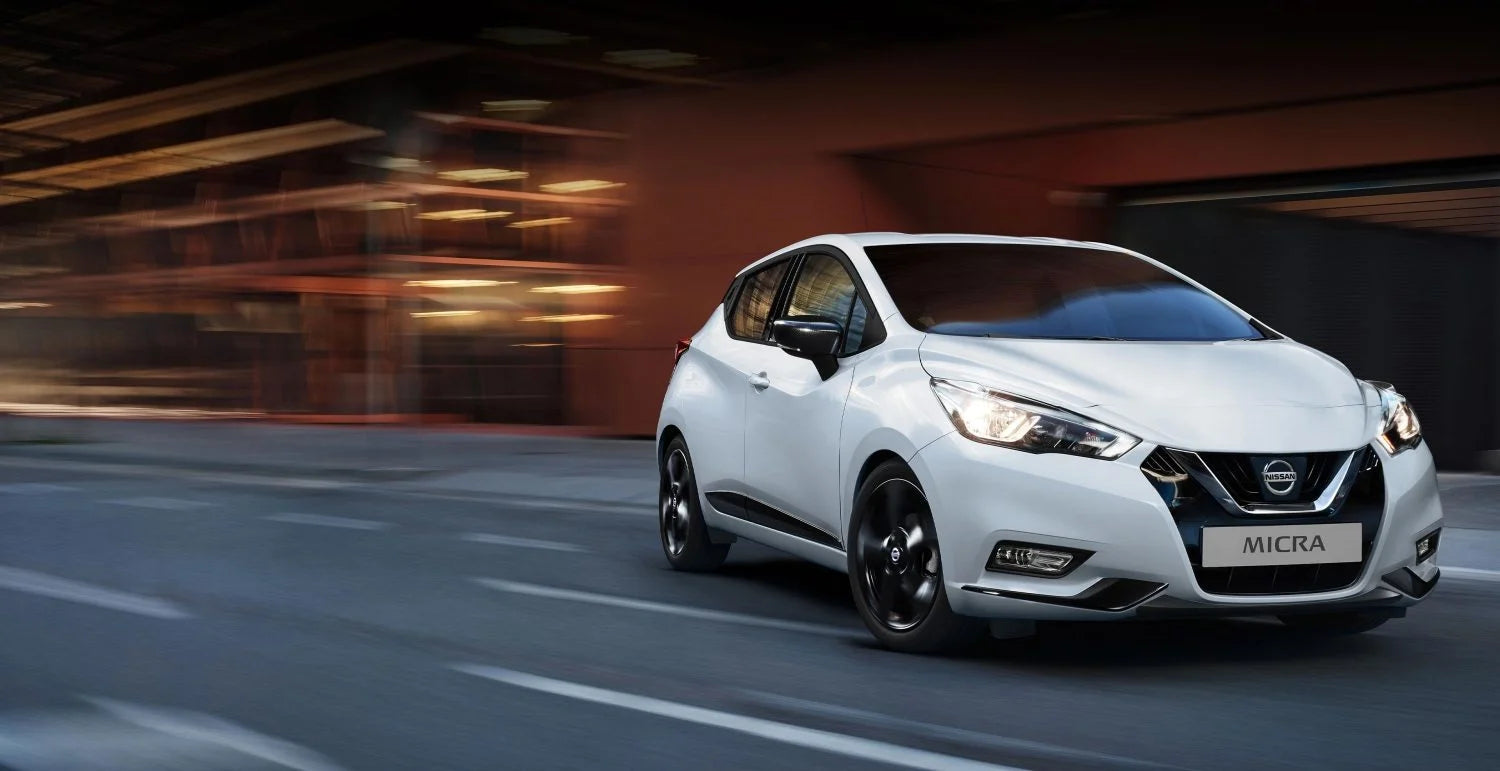 Unearth our range of top-tier touch up paint for Nissan, meticulously created for precision. Chipex Nissan touch up paint facilitates a simple yet effective application process, affording you the luxury of achieving professional-standard results swiftly.
At Chipex, we recognise the disappointment when you spot a scratch or chip on your cherished Nissan, and the costs that can follow. That's why we provide our reliable paint repair solutions, designed to save you time, alleviate your worries, and protect your wallet.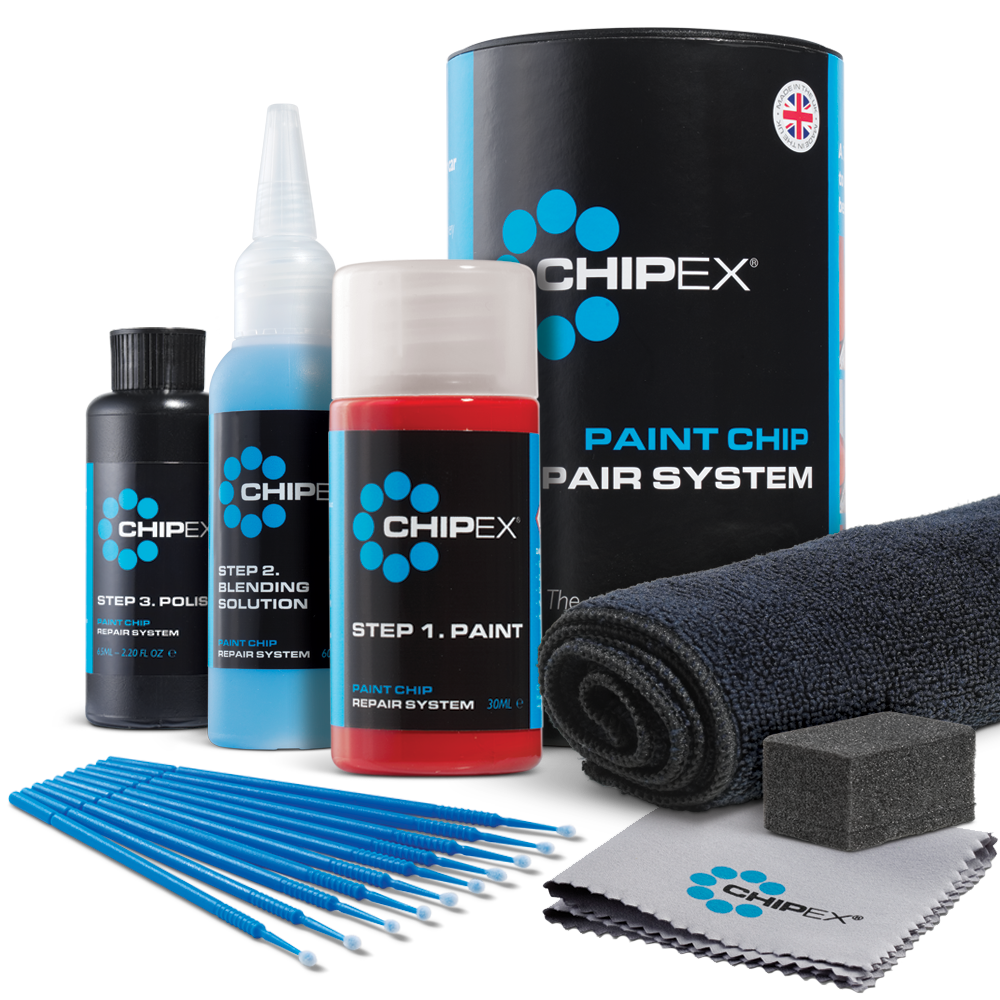 How It Works
Securing the perfect touch up paint for your Nissan is easier than ever, thanks to our intuitive colour code locator tool.
Simply input your car registration details, follow a few straightforward steps, and this tool will promptly identify the ideal match for you, helping you make those unwanted scratches disappear.
After selecting and ordering your ideally matched Nissan touch up paint, you'll find that the 3-step application process is notably effortless.
Find Your Nissan Colour Code with Your Registration
Track down your Nissan touch up paint colour code swiftly and accurately with our advanced colour code finder tool. Just input your registration number, and let the tool do the work.
It will quickly ascertain your exact Nissan touch up paint colour and ensure a perfect match, leaving no trace of the previous scratch.
Experience the ease firsthand by entering your registration number in the yellow box below.
Add Registration To Find Your Colour
this is an error
Where to Find Your Nissan Colour Code
If you prefer to locate your Nissan touch up paint colour code manually, it's likely stored somewhere within your car itself.

The specific location can vary between Nissan models. If you're having trouble finding or identifying the code, your vehicle handbook should offer detailed instructions on how to find it. Alternatively, don't hesitate to contact your local dealership for further guidance.

Nissan Paint Code Location
Finding your Nissan colour code doesn't have to be complex. Although specific locations vary across models, a quick glance in your vehicle handbook or a call to your local dealership can provide the answer you need.
| | |
| --- | --- |
| Model | Position of Colour Label |
| NOTE | ON THE PASSENGER SIDE DOOR COLUMN |
| MICRA | ON THE PASSENGER SIDE DOOR COLUMN |
| QASHQAI | ON THE PASSENGER SIDE DOOR COLUMN |
| PATHFINDER | INSIDE THE ENGINE COMPARTMENT |
| X TRAIL | INSIDE THE ENGINE COMPARTMENT |
| PATROL | INSIDE THE ENGINE COMPARTMENT |
| ALL OTHER MODELS | LOCATION VARIES DEPENDING ON YEAR AND MODEL |
Once you've located the sticker, you should see the code on the bottom left, under 'COLOR.

If you can't find the Nissan paint code/colour name on the car, you can contact your local dealer with your Vehicle Identification Number (VIN), which you will find on the car or your logbook/vehicle registration document, and they will be able to retrieve it from their internal database. Alternatively, you can always use our trustworthy registration lookup tool.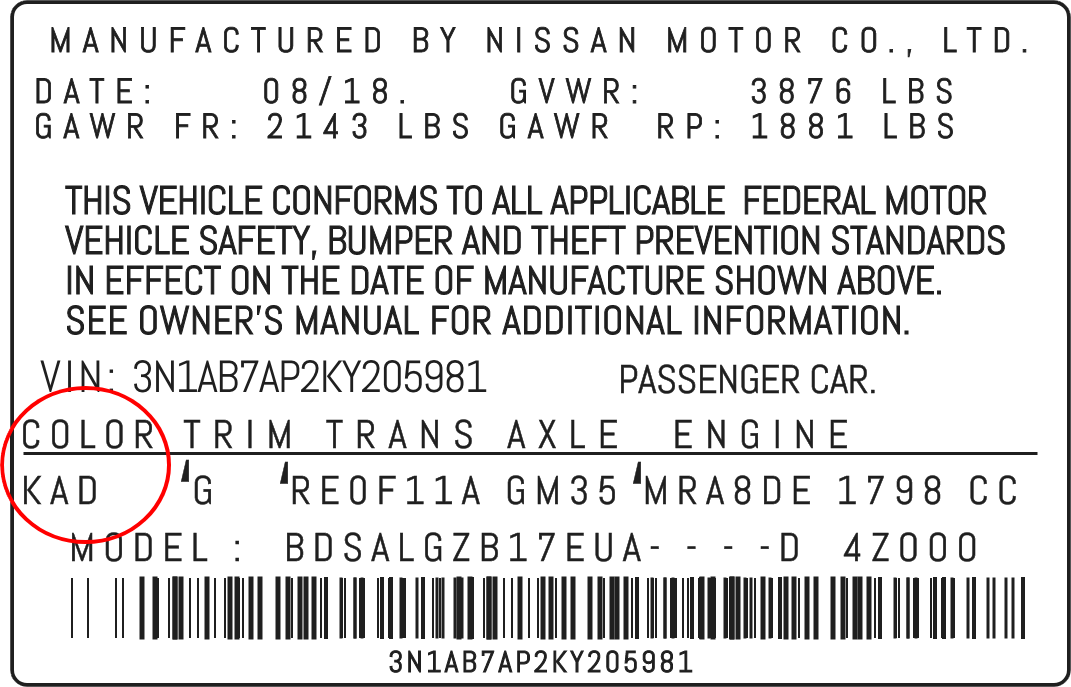 How to Use Chipex Touch Up Paint On Your Nissan
Embrace the simple 3-step application process of Chipex Nissan touch up paint, promising speed, efficiency, and affordability. Apply the paint to the impacted area, carefully blend it in, and then polish the surface for exceptional results.

Say goodbye to scratches on your car without the hassle and expense of visiting a garage. With just these straightforward steps, you can achieve a pristine car finish whilst saving both time and money with Chipex Nissan touch up paint.

The Nissan touch up paint perfectly complements your car's existing paint, offering robust protection against corrosion and rust, ensuring your vehicle maintains its grace and performance over time.

FAQs
Here are some popular questions about using Chipex touch up paint on your Nissan:

How do you repair a scratch on a Nissan?

Witness the effectiveness of Chipex touch up kits as they efficiently erase any unsightly scratches tarnishing your prized Nissan, revealing a remarkably smooth exterior. Enjoy the certainty of an exact colour match and impressive finish, courtesy of Chipex, enhancing your vehicle's overall appearance.


Where is the paint code on a Nissan?

The location of your Nissan paint code can vary, so it's recommended to check your vehicle handbook or contact your local dealership for accurate information.


What's the cost to fix the paint on a Nissan?

Chipex touch up paint kits provide a cost-effective solution for addressing paint issues on your Nissan. With their superior quality, these kits ensure a flawless match with your paint colour, providing results equivalent to professional services.


How can I remove micro scratches from my Nissan?

Easily eliminate minor scratches on your Nissan with Chipex touch up paint kits, achieving flawless results in just three straightforward steps.


Is the Chipex system reliable?

Absolutely! Chipex products, such as touch up paint kits, offer a DIY solution with a finish that reflects professional quality.