Bugatti Touch Up Paint
Touch Up Paint for All Bugatti Colour Codes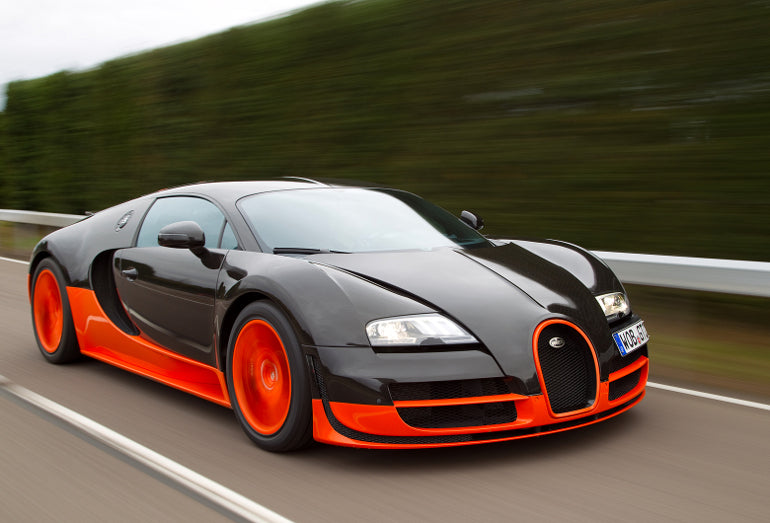 Thanks to the Chipex Bugatti touch up paint, you no longer have to panic when you see a dreaded scratch or chip in your car's paintwork. Our touch up paint for Bugatti uses a state-of-the-art colour-match technology that finds the 100% correct colour of your original paint, so you'll never even know there was a scratch there.

Our Bugatti touch up paint kit is delivered straight to your door once you've found your colour match and then is applied quickly and easily using our 3-step system, so you never once have to visit a garage or expensive repair shop.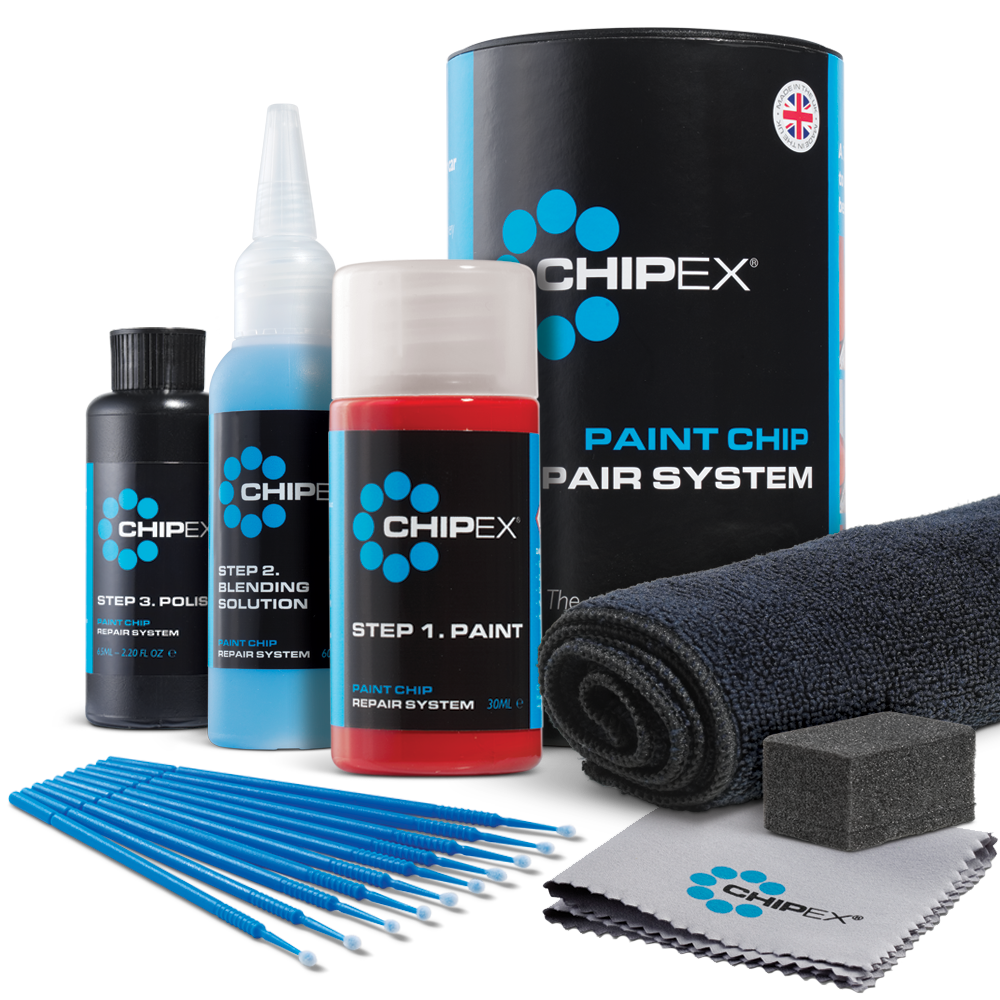 How It Works
Quickly repair scratches and chips to your Bugatti with Chipex touch up paint. Start the process by typing your car's registration into our user-friendly colour code finder tool in the yellow box below. The smart system immediately finds the exact colour code for your Bugatti, making the whole process quick and easy.

You can easily locate your paint code from within your car if you prefer another method. Depending on the model, this location will differ slightly, but our detailed guide below walks you through the process.

Find Your Bugatti Colour Code with Your Registration
It's a complete breeze to find your Bugatti colour code for your Chipex touch up paint when you use our handy colour code locator tool. Simply pop your registration number in the yellow box below, and off it goes to find your perfectly-matched Bugatti touch up paint code.
Add Registration To Find Your Colour
this is an error
Where to Find Your Bugatti Colour Code
Finding your Bugatti touch up paint code directly from within your car is another option if you prefer not to use the colour code finder tool.

To help you find your Bugatti colour code, we've provided a detailed guide below, which will show where on your car the code, depending on the model, and what you can expect it to look like.

In addition, your owner's manual is a good place to look, as well as contacting your Bugatti dealership for help with finding your paint code.

Bugatti Paint Code Location
Finding your Bugatti paint code location isn't always easy if you've never had to look for it or if you don't know what it looks like. Our detailed guide below walks you through the exact process of finding your Bugatti paint code quickly and easily.
| | |
| --- | --- |
| Model | Position of Colour Label |
| All models | Inside the engine compartment (under the bonnet) |
As shown in the image, the paint name is usually on the right-hand side of the sticker and starts with the letter E.

If you cannot find the Bugatti paint code / colour name on the car, you can call your local dealer with your Vehicle Identification Number (VIN), which you will find on the car or your log book / vehicle registration document, and they will be able to look it up on their internal database.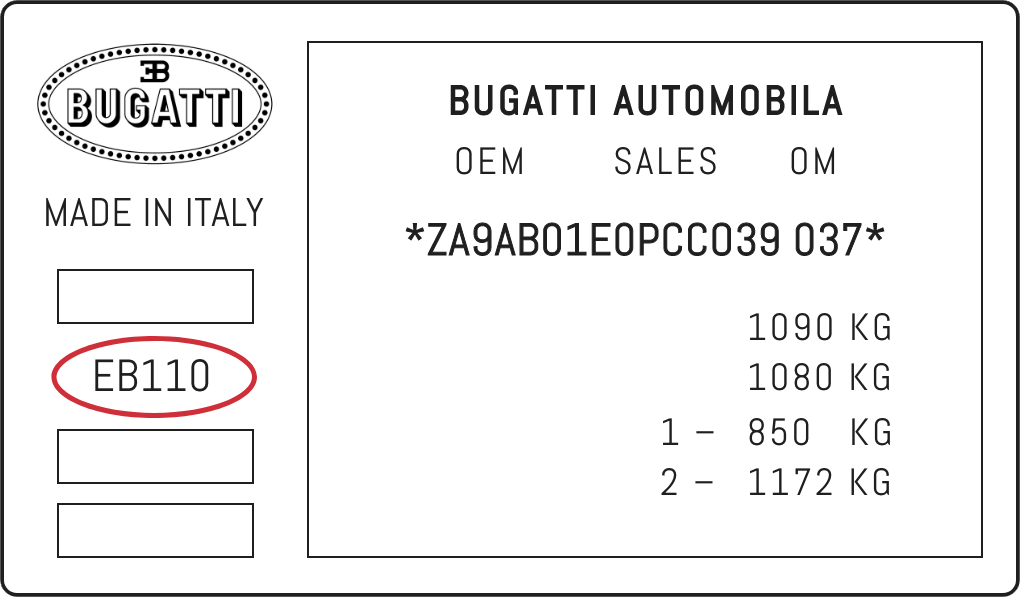 How to Use Chipex Touch Up Paint On Your Bugatti
Our Chipex touch up paint for Bugatti is super easy to use. Thanks to our 3-step process of painting, blending and polishing. Your car will be repaired to professional standards within minutes - all without ever leaving the house.
FAQs
Here are some popular queries about using Chipex touch up paint on your Bugatti:
How do you repair a scratch on a Bugatti?

Experience the ultimate solution for eliminating unsightly scratches on your cherished Bugatti and revel in a flawless finish with Chipex touch up kits. Be assured of a seamless colour match and an unparalleled result that will leave your vehicle looking impeccable.

Where is the paint codeon a Bugatti?

Depending on the model, the location of your Bugatti paint code will vary. Our above guide provides full instructions on where to find this. If you're in doubt, using our colour locator tool is always best.

What's the cost to fix the paint on a Bugatti?

Chipex touch up paint kits offer an affordable solution to address any paint issues on your Bugatti. With their superior quality, these kits guarantee a perfect colour match, providing results that rival those achieved by professional services.

How can I remove micro scratches from my Bugatti?

Easily restore minor scratches on your Bugatti with Chipex touch up paint kits, delivering optimal results in just 3 simple steps.

Is the Chipex system reliable?

Certainly! Absolutely! Chipex offers a range of touch-up paint kits and products that empower you with a DIY solution, delivering a finish that rivals professional quality.