Chrysler Touch Up Paint
Touch Up Paint for All Chrysler Colour Codes
Introducing Chipex Chrysler touch up paint - a revolutionary three-step solution for seamless chip repairs on all Chrysler models. Say goodbye to minor scratches and chips on your car, as Chipex makes the repair process incredibly easy and delivers a professional finish right at home.
With our top-quality product swiftly delivered to your doorstep, applying touch up paint has never been more effortless. Even if you've never done it before, you can achieve outstanding results with Chipex.
Our specially formulated Chrysler touch-up paint perfectly matches the exact colour of your car, making any marks disappear as if they were never there. Get the ultimate solution for chip repairs at a fraction of the price and enjoy a flawless finish that will leave your car looking impeccable.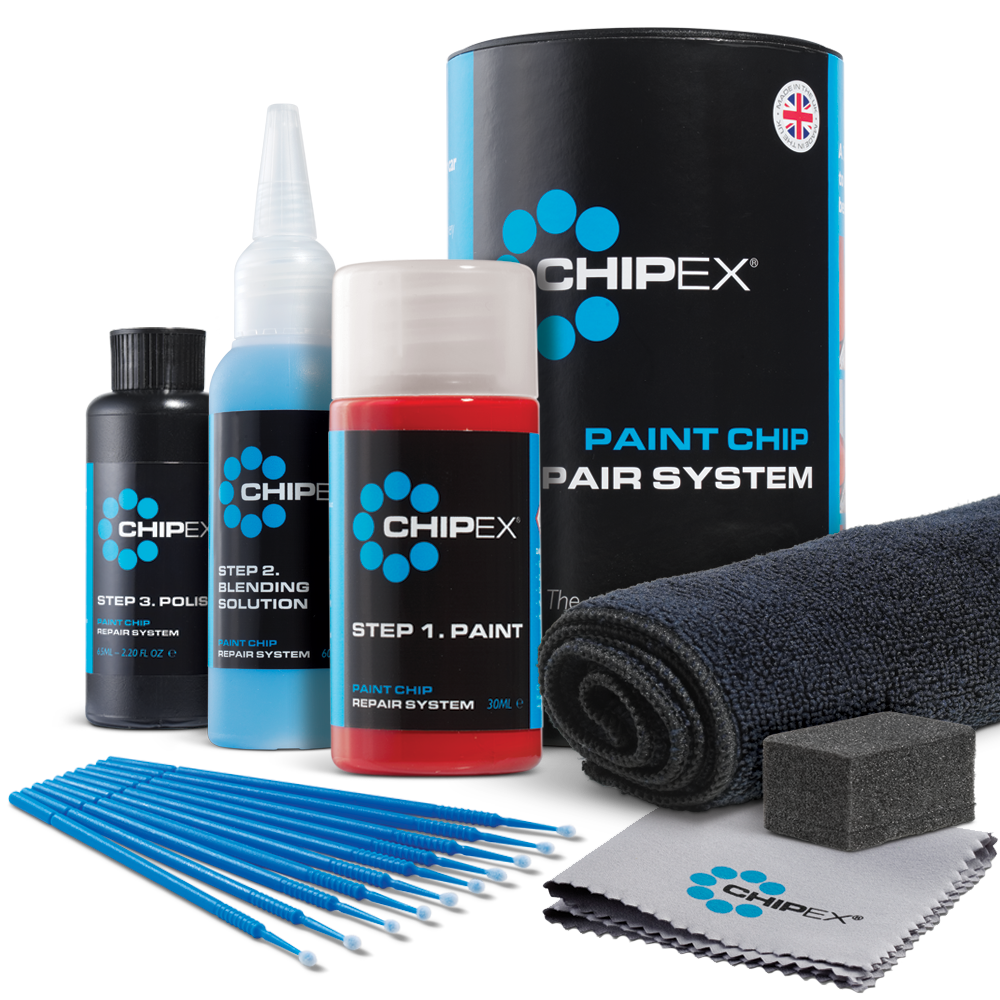 How It Works
At Chipex, simplicity is at the heart of our approach, and the application of our Chrysler touch-up paint is no different.
Our convenient colour code finder tool below works like magic – simply input your registration number, and it will instantly find your vehicle's exact matching touch-up paint.
Alternatively, if you prefer,  you can locate your Chrysler touch-up paint colour code directly within your car. We've provided a detailed guide below to show you how to find your Chrysler paint code to ensure you achieve the perfect match effortlessly.
Find Your Chrysler Colour Code with Your Registration
Discovering the perfect touch-up paint for your Chrysler has never been easier with our revolutionary colour code finder tool. 
Just follow these simple steps: enter your registration number in the yellow box below, click "search," and voilà! In no time, you'll find the precise paint colour code that matches your Chrysler, all set for hassle-free ordering from the comfort of your home. 
Say goodbye to the need for samples or the hassle of going out – we've got you covered!
Add Registration To Find Your Colour
this is an error
Where to Find Your Chrysler Colour Code
If you prefer an alternative approach to finding the colour code for your Chrysler touch up paint, you can easily locate it directly within your car.
The location of the colour code may differ depending on the specific Chrysler model you own, which you can find more details on in our detailed guide below.
If you encounter any difficulty finding the colour code using this method, there's no need to worry. You can also obtain the information from your user manual or visit your nearest dealership.
Regardless of your preferred method, we're here to assist you in finding the perfect match for your Chrysler touch-up paint.
Chrysler Paint Code Location
Finding out where the paint code is on your car or even what it looks like can be a bit challenging if you've never had to locate it before, so we've put together this useful guide below that shows you whereabouts your Chrysler paint code is likely to be located, and what you should be looking for.
| | |
| --- | --- |
| Model | Position of Colour Label |
| Neon - Sebring - Stratus - Cabrio - Voyager | Inside the Engine Compartment |
| Cheroke | On the inside of the rear bumper |
As shown in the image, your Chrysler paint code is usually located at the bottom left-hand corner of the sticker or metal plate, and will consist of 3 characters beginning with "P".  If in doubt about where your paint code is, it's always best to check using our registration colour code finder tool.
If you cannot find the paint code / colour name on the car, you can call your local dealer with your Vehicle Identification Number (VIN), which you will find on the car or your log book / vehicle registration document, and they will be able to look it up on their internal database.

How to Use Chipex Touch Up Paint On Your Chrysler
Repairing your paintwork at home with Chipex Chrysler  touch up paint is incredibly easy, regardless of whether you have prior experience or are new to using touch up paint.
Our Chrysler touch up paint follows a straightforward 3-step process: apply the paint, blend it seamlessly with the affected area, and then polish it. That's all it takes to achieve a professional-looking repair.
Regardless of whether you're dealing with a minor scratch or a more prominent chip in your paintwork, you'll be pleasantly surprised by how fast, straightforward, and cost-effective it is to restore your paintwork on your own.
FAQs
Here are some popular queries about using Chipex touch up paint on your Chrysler:
How do you repair a scratch on a Chrysler?

Achieve swift, professional outcomes with the Chipex Chrysler Touch Up Paint – the ideal solution for mending minor scratches and chips on your car.

Where is the paint code on a Chrysler?

Depending on your Chrysler model, the paint code will usually be located on the front bumper, rear bumper, or inside the engine compartment.

What's the cost to fix the paint on a Chrysler?

Discover how you can easily and affordably resolve your Chrysler's paint issues using Chipex touch-up paint kits. To achieve flawless results that match your car's colour, our top-quality product ensures the same standard as manufacturers do.

Experience the convenience and simplicity of our Chipex paint touch-up kit, which guarantees a fast application process and saves you a significant amount compared to expensive repair shop or garage visits.

How can I remove micro scratches from my Chrysler?

Achieve flawless results in just 3 simple steps with Chipex touch-up paint kits for your Chrysler. Effortlessly buff out minor scratches and small chips from your car using our state-of-the-art technology, ensuring a perfect colour match that will leave you astounded. 

Say goodbye to those pesky micro-scratches, as your Chrysler will look as good as new with Chipex!

Is the Chrysler system reliable?

Absolutely! Chipex products are meticulously crafted to deliver exceptional results, granting you a seamless and polished appearance without the inconvenience and expense of seeking a garage's assistance for your paintwork repairs.