Tesla Touch Up Paint
Touch Up Paint for All Tesla Colour Codes
Recognising the frustration that arises from discovering unsightly scratches and chips on your Tesla, Chipex is here to provide a solution that ensures a seamless restoration. We proudly offer precise touch up paint for all Tesla colour codes, meticulously formulated to perfectly match the exact shade of your vehicle. This guarantees a flawless finish that seamlessly blends with the existing paintwork.
As industry-leading touch up paint suppliers, we take pride in our range of Tesla touch up paint kits, designed to facilitate professional-looking results from the comfort of your own home. Whether you seek to address minor damage or undertake more extensive repairs, Chipex has got you covered.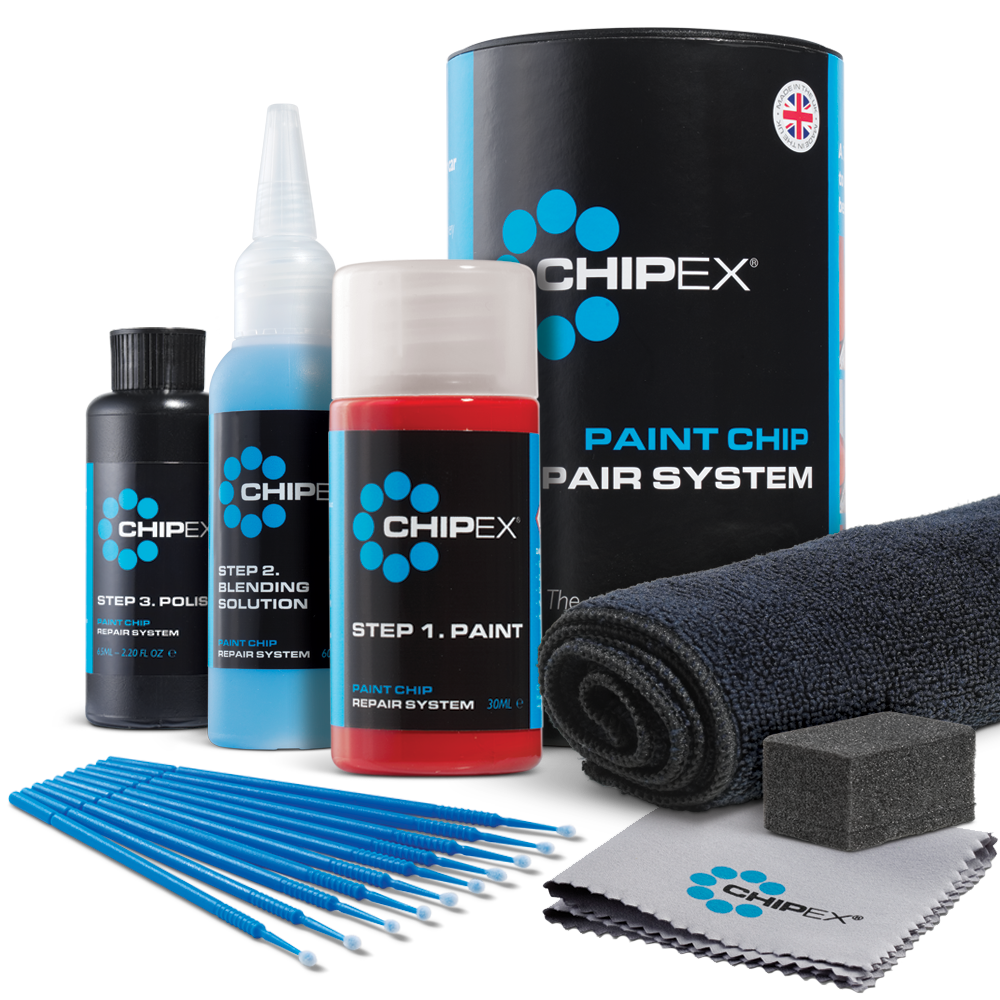 How It Works
Applying Chipex touch-up paint to your Tesla is a straightforward process. Just enter your vehicle's registration into our convenient colour code finder tool located at the top of the page, and we'll take care of the rest. Our tool will efficiently identify the precise colour code for your Tesla, simplifying the selection of the ideal touch-up paint kit to meet your requirements.
Alternatively, you have the option to locate the colour code directly in your car. We will guide you precisely where to find your Tesla's colour code, ensuring you can confidently place an order for the correct touch-up paint kit.
Find Your Tesla Colour Code with Your Registration
Our innovative colour code finder tool simplifies the process of locating your Tesla's paint code using your registration details. By entering your registration information, we will swiftly identify the precise colour code required for your Tesla vehicle. With Chipex, you can rest assured knowing that you will receive the correct touch-up paint kit tailored specifically for your car. To access the Tesla colour code finder, please locate the yellow box positioned at the top of this page or simply click here, or you can simply click here.
Add Registration To Find Your Colour
this is an error
Where to Find Your Tesla Colour Code
Similar to various other automobile manufacturers, Tesla's paint codes can be found in the vehicle. However, the most dependable location to find your Tesla's paint code is on the driver's door frame, which becomes visible when you open the door. It's essential to note that the exact position of the paint code might differ depending on your Tesla model, necessitating a thorough check of all doors to locate the information plate.
Alternatively, you can consult the owner's manual or get in touch with your nearest Tesla dealership to acquire the code. Regardless of the method you choose, we are here to assist you in finding the code required to order the appropriate touch-up paint kit for your Tesla.
Tesla Paint Code Location
If you're still unsure about locating your Tesla's paint code, don't worry. We've got you covered with our helpful guide, complete with an accompanying image illustrating where the codes are typically located. With our assistance, you'll easily find the paint code in no time, allowing you to swiftly proceed with your touch-up paint kit.
| | |
| --- | --- |
| Model | Position of Colour Label |
| Model 3, Model S, Model X, Model Y | Driver's side door jamb |
The colour code can be found in the bottom right corner of the sticker.
How to Use Chipex Touch Up Paint On Your Tesla
Applying our touch up paint kits to your Tesla is a breeze. We offer comprehensive, step-by-step instructions to effortlessly guide you through the process, ensuring you achieve remarkable results right from the comfort of your own home. Our touch up paint is specifically formulated for easy application and provides enduring safeguarding against rust and corrosion.
All you need to do is clean the affected area, then it's a 3 step process - you paint, blend and polish the area. It's as simple as that! Prepare to be astonished by the seamless integration of the touch up paint with the rest of your Tesla's paintwork.
FAQs
Here are some frequently asked questions about using Chipex touch up paint on your Tesla:
How do you fix a Tesla paint problem?

To avoid paint problems on your Tesla you can use Chipex Paint System Repair. If your Tesla's paint has been already affected, DIY solutions such as Chipex touch up kit will give you a high end result.

How do you fix a scratch on a Tesla?

Chipex touch up kits will fix the scratches on your Tesla delivering an extraordinary result. Chipex guarantees a colour matching and a superior finish on your vehicle.

Where is the paint code on a Tesla?

You can find  your Tesla paint code on the sticker located on the driver's door frame after the abbreviation "PNT".

How much is it to fix the paint on a Tesla?

Fixing paint issues on your Tesla can be affordable with Chipex touch up paint kits. The quality of the product will match perfectly with your colour paint offering the same results as manufacters.

How do I get micro scratches out of my Tesla?

You can buff out minor scratches on your Tesla using Chipex touch up paint kits. Get the best results in only three steps. 

Is the Chipex system any good?

Yes! Chipex products such as touch up paint kits offer a DIY solution with a professional-looking result.