Daihatsu Touch Up Paint
Touch Up Paint for All Daihatsu Colour Codes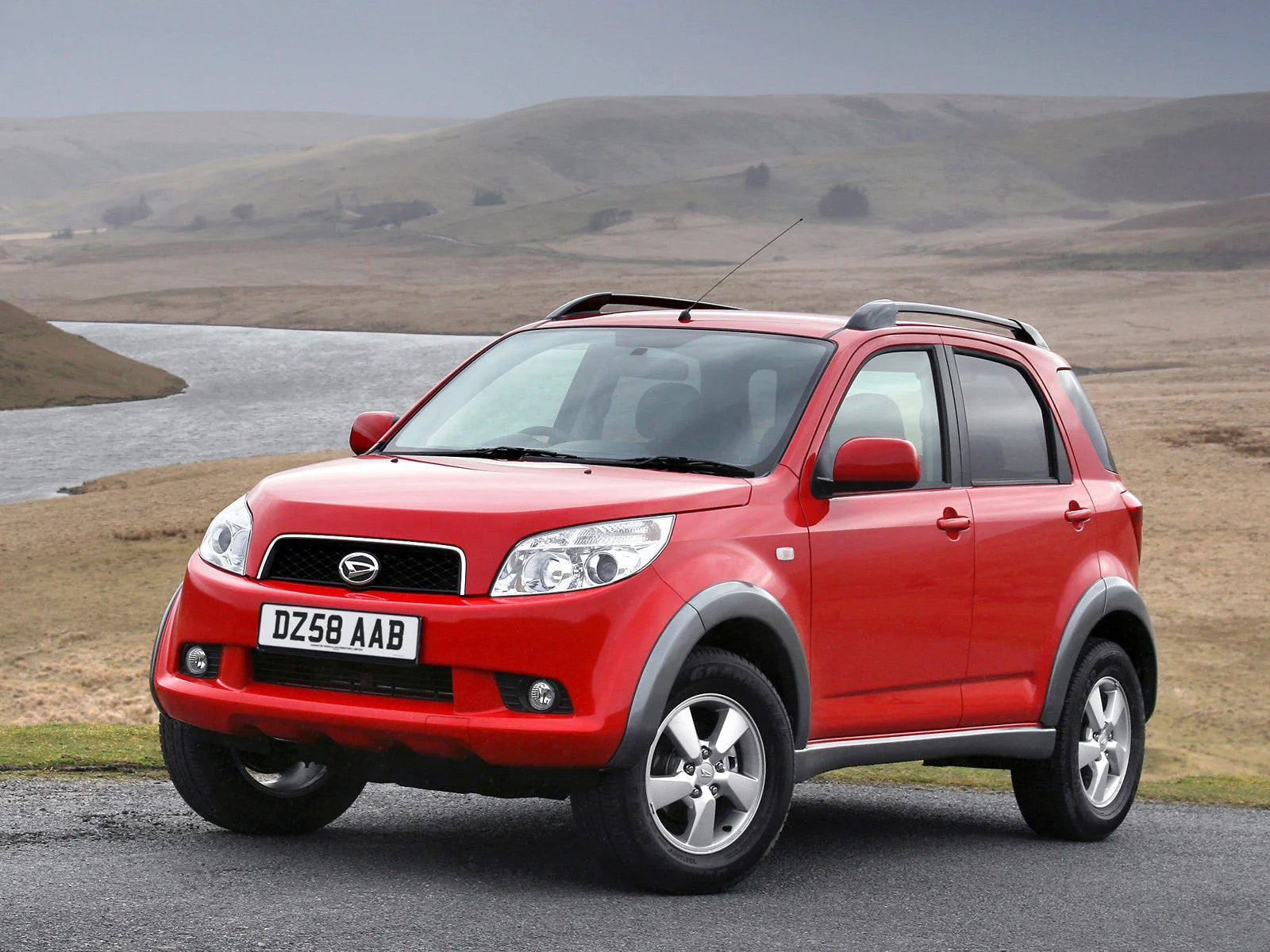 Chipex is the ultimate solution to tackle those bothersome scratches and chips on your cherished Daihatsu. We understand the frustration these imperfections can cause, so we are fully committed to providing you with the perfect fix. Our precision match touch-up paint is specially formulated to correspond to all Daihatsu colour codes flawlessly.

Meticulously crafted with the utmost care, our touch-up paint guarantees a seamless and harmonious finish that blends impeccably with your car's original paintwork. As a leading supplier in the industry, we take immense pride in delivering top-notch touch-up paint to our customers.

Achieving professional-looking results is now a breeze with our comprehensive range of Daihatsu touch-up paint kits. Whether you're dealing with minor damages or more extensive repairs, rest assured that Chipex has you covered. Effortlessly restore your car's beauty from the comfort of your own home with our reliable and ideal solution. Say goodbye to unsightly marks and welcome back the stunningly restored glory of your Daihatsu.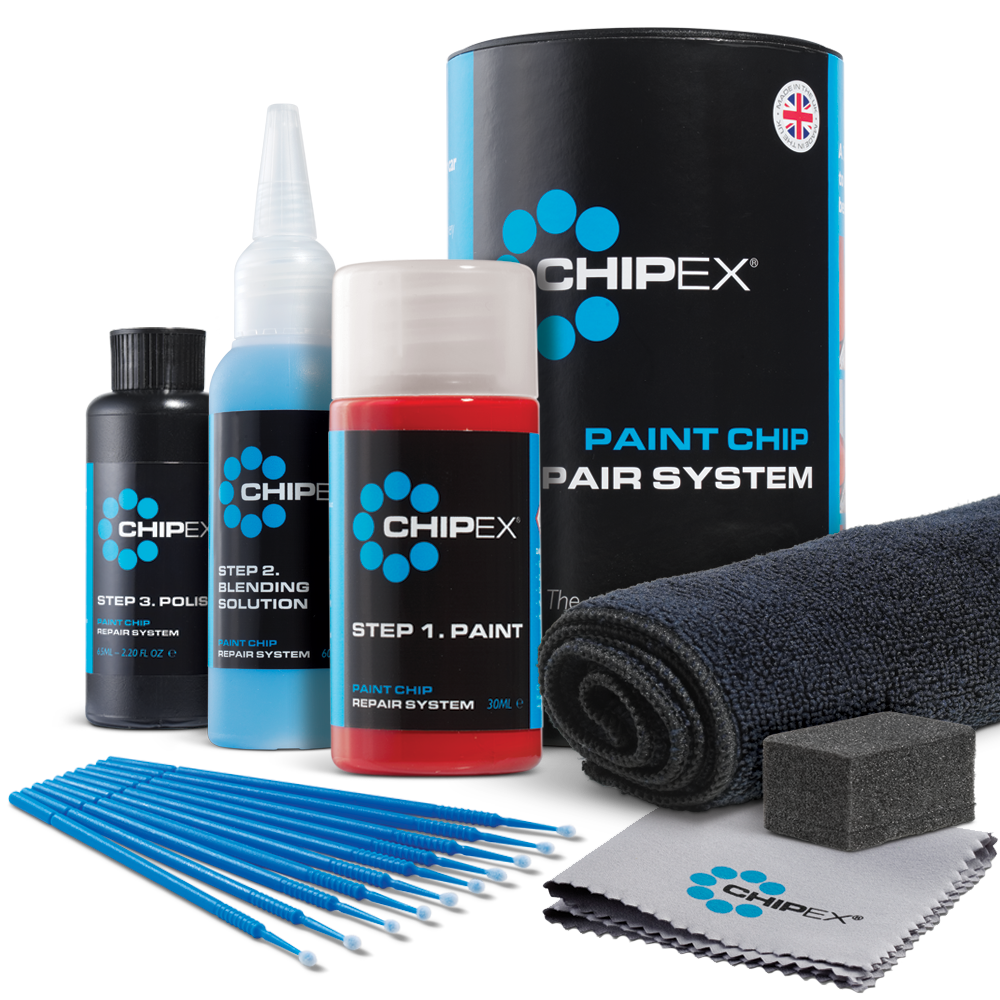 How It Works
Experience the hassle-free and precise way to repair your Daihatsu with Chipex touch-up paint. Our user-friendly colour code finder tool guarantees a seamless experience – just input your vehicle's registration, and our intelligent system will swiftly decode the exact colour code for your Daihatsu. Selecting the perfect touch-up paint kit has never been easier!

Our comprehensive guide below provides all the necessary information for those who prefer to locate the colour code within their vehicle.

With this knowledge at your fingertips, confidently order the ideal touch-up paint kit and ensure a flawless restoration for your beloved car. Say goodbye to imperfections and welcome back a seamlessly restored Daihatsu.

Find Your Daihatsu Colour Code with Your Registration
Embrace the future with our state-of-the-art colour code finder tool, providing you with an effortless way to locate your Daihatsu paint code. Discover a seamless process of finding the perfect colour match for your Daihatsu by simply entering your registration details into our advanced system. Within moments, you'll receive the precise colour code that flawlessly corresponds to your Daihatsu.

At Chipex, precision is our utmost priority, and our custom-made touch-up paint kit is specifically tailored for your car, ensuring absolute accuracy. With our fast and reliable Daihatsu colour code finder below, rest assured of exceptional results. Trust Chipex for an unparalleled touch-up paint solution. Say goodbye to guesswork and welcome flawlessly restored perfection!

Add Registration To Find Your Colour
this is an error
Where to Find Your Daihatsu Colour Code
Like many other car manufacturers, Daihatsu stores its paint codes within the vehicle. However, the exact location of the paint code can vary depending on the specific model of your car.

To streamline the process of finding your Daihatsu paint code and identifying its appearance, we have created a guide below. With our clear and concise instructions, you can rest assured that you'll quickly locate and recognise the paint code for your Daihatsu vehicle.

Daihatsu Paint Code Location
Discovering the paint code for your Daihatsu may initially seem daunting, but don't worry; we're here to make the process seamless and straightforward. Our comprehensive and user-friendly manual, complete with helpful images, will effortlessly guide you through each step, leading you to the precise paint code you require.

With our expert assistance, you can confidently order your touch-up paint kit, knowing that you possess the exact code tailored for your car. If you cannot locate your vehicle's paint code or colour name, there's no need to stress. Simply reach out to your local dealer and provide them with your Vehicle Identification Number (VIN).

You can find this number on your car or in your logbook/vehicle registration document. Once you provide the VIN, the dealer will access their internal database and provide you with all the necessary information you need. Rest assured, we've got you covered every step of the way.

| | |
| --- | --- |
| Model | Position of Colour Label |
| Cuore - Materia - Terios Yrv - Sirion - Copen | Inside the engine compartment |
As shown in the image, the paint name is usually three numbers which are positioned at the bottom right hand corner of the sticker.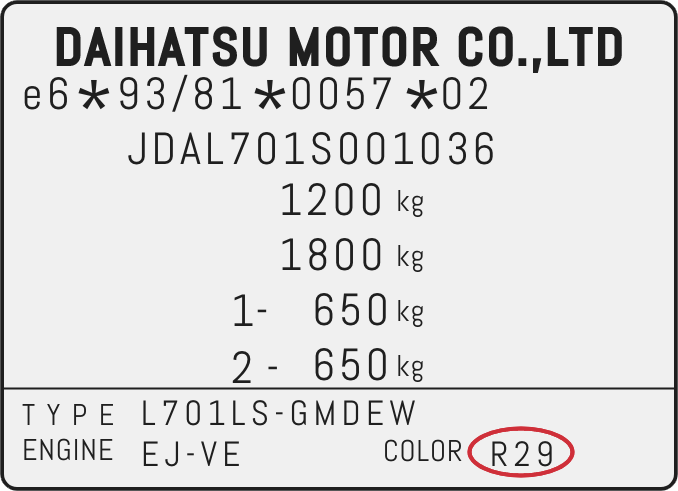 How to Use Chipex Touch Up Paint On Your Daihatsu
Restore your car's flawless appearance right in the comfort of your driveway. Our user-friendly instructions will expertly guide you through a seamless process, ensuring an extraordinary outcome that seamlessly integrates with your Daihatsu original paintwork.


Designed for a simple application, our touch-up paint guarantees a stunning finish while providing long-lasting protection against rust and corrosion.

Just follow three easy steps – applying the paint, blending it in, and polishing it to perfection – and you'll be astonished at how straightforward the entire process is. Witness the impeccable results as your Daihatsu's beauty is effortlessly brought back to life. Get ready to be genuinely impressed with the transformation!

FAQs
Here are some popular queries about using Chipex touch up paint on your Daihatsu:
How do you repair a scratch on a Daihatsu?

Experience the power of Chipex touch-up kits to erase scratches from your Daihatsu and revel in an impeccable finish. Chipex guarantees a flawless colour match and an unmatched final result for your vehicle.

Where is the paint code on a Daihatsu?

The paint code can be found inside the engine compartment in most models. However, this may vary for others. Our detailed guide above shows you exactly how to find this.

What's the cost to fix the paint on a Daihatsu?

Restoring paint issues on your Daihatsu is now affordable and hassle-free with Chipex touch-up paint kits. Our superior quality product ensures a perfect match with your paint colour, delivering a result akin to professional services. Say goodbye to imperfections and hello to a beautifully restored Daihatsu.

How can I remove micro scratches from my Daihatsu?

Effortlessly buff out minor scratches on your Daihatsu using Chipex touch-up paint kits. Achieve the best results in just three simple steps. Your Daihatsu will look as good as new in no time!

Is the Chipex system reliable?

Absolutely! Chipex products, such as touch up paint kits, provide a DIY solution with a finish that mirrors professional quality.